If you've left Gmail logged in on another computer, there's a quick and easy fix for logging out remotely.

First, log into Gmail on your home computer and scroll all the way down past your inbox to the bottom right of the screen where Gmail displays the last time your account was logged into. Click the Details link to see all the IP addresses that have accessed your account. If someone logs into your account from a suspicious location, Google sends you an alert.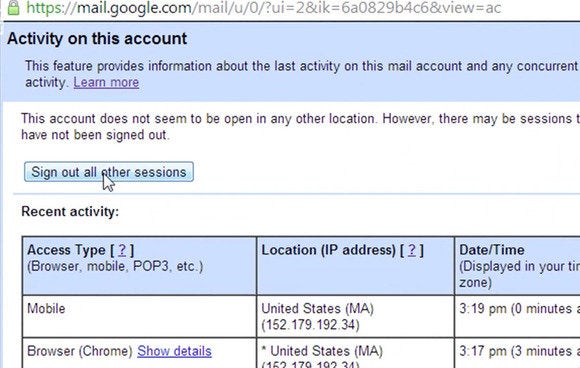 That Details screen contains a Sign Out All Other Sessions button. Click it if you've forgotten to log out from another computer.
----------------------------------------------------------------------------------
Looking for online technical support for virus & spyware removal, wireless network setup, printer setup, printer troubleshooting, hardware installation, software installation & help, data backup & recovery, hardware repair, technology consultation and email setup. Your search ends here. Speak to a Techvedic representative at 1-855-859-0057 (Toll Free) and make your technology experience better.
About Techvedic:
http://en.wikipedia.org/wiki/Techvedic
Get in touch with Techvedic on Social Media:
Techvedic Facebook Page:
https://www.facebook.com/techvedic
Techvedic Twitter:
https://twitter.com/techvedic
Techvedic Google Plus Page:
https://plus.google.com/+TechvedicInc/posts
Techvedic YouTube:
https://www.youtube.com/user/Techvedic
Techvedic LinkedIn Profile:
https://www.linkedin.com/company/techvedic
Visit:
Techvedic – Tech Support Company | http://www.techvedic.com/ | 1-855-859-0057 (USA) | support@techvedic.com